---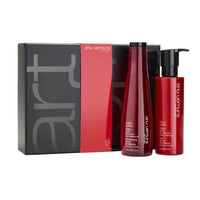 Details

Color Lustre shampoo and conditioner duo for color treated hair. Give the brilliant glaze of sulfate free Color Lustre for beautiful and healthy  hair.
Set Includes

Color Lustre shampoo [300ml]:

This paraben free & sulfate free shampoo for colored hair is a luxurious foam that lathers quickly and offers easy rinsing to prevent your hair color from fading, protects the hair fiber, and balances the scalp's natural oils.

Color Lustre conditioner [250ml]:  

This hair conditioner for colored hair provides lightweight conditioning from mid-lengths to ends, giving your hair a weightless glazed shine.
Ingredients
Musk Rose Oil - infused with Musk Rose Oil, known for its inherent healing properties, the oil is rich in fatty acids that deeply nourish and strengthen the hair fiber.
Goji Berry Extract - t
he formula is loaded with antioxidant-rich goji berry extract to keep protect the hair from fading.